steps-to-best-beach-villa-unica-6bedroom
Steps to Best Beach VILLA UNICA 6Bedroom villaunica.com | Playa del carmen Vacation Rental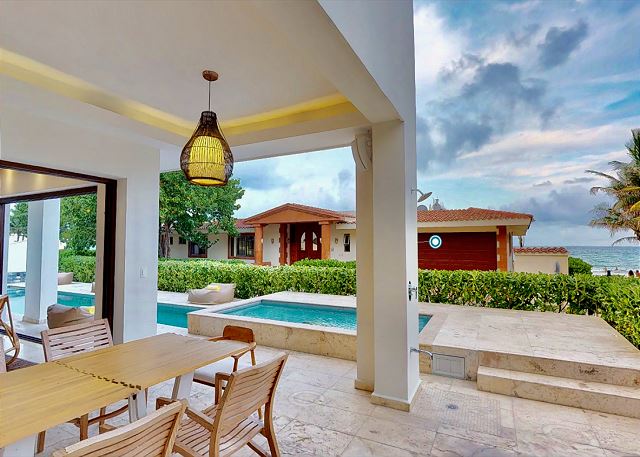 VILLA UNICA- THIS PLAYACAR HOME FOR RENT WITH 6 BEDROOMS AND 7 BATHROOMS HAS SO MUCH TO OFFER.

BESIDES AN OUTSTANDING DESIGN AND STYLE THAT MAKES IT UNIQUE, IT HAS BEEN BUILT TO A LEVEL OF QUALITY AND FINISHES NOT SEEN BEFORE IN PLAYACAR. PLAYACAR GATED RESIDENTIAL COMMUNITY OF PLAYA DEL CARMEN IS THE MOST EXCLUSIVE AND PRIVATE RESIDENTIAL COMMUNITY FOR DISCERNING BUYERS.

THIS EXTRAORDINARY VILLA CONTAINS EVERYTHING TO OFFER THE ONCE-IN-A-LIFETIME VACATION EXPERIENCE.

RENTING THIS PLAYACAR HOME WILL BE A FANTASTIC FAMILY VACATION. VILLA UNICA IS TRULY AMAZING.

THE PANORAMIC OCEAN VIEWS FROM THE TERRACE AND BEDROOMS MAKE THIS RECENTLY RENOVATED VILLA A PIECE OF HIGH-QUALITY ART. NOT ONLY CAN THE VIEW BE CHERISHED, THE DAILY ENJOYMENT OF THE PERFECTLY POSITIONED SWIMMING POOL HONORS THIS DIVINE PLACE IN PLAYA DEL CARMEN.

THE KITCHEN FLOWS NATURALLY INTO THE DINING AREA THAT COMFORTABLY SEATS 10.

YOUR LIVING ROOM COMFORTABLY IS FURNISHED, AND IT OPENS TO LARGE TERRACE AND THE HEATED SWIMMING POOL !

PLAYACAR COMMUNITY IS SECURE, EASY ACCESS TO PLAYA DEL CARMEN, THE COZUMEL FERRY, 24/7 BEACH BREEZE AND VIEWS.

WHAT YOU WILL LOVE ABOUT THIS AREA: THE BEACH, FAMILY ACTIVITIES, HISTORICAL SIGHTSEEING, SECURITY, CARIBBEAN BLUE WATERS AND WHITE FINE SANDY BEACHES.

ENJOY SNORKELLING, DIVING, KITESURFING, WORLD-CLASS SHOPPING AND DINING OR QUIET FAMILY TIMES ON THE BEACH.

AMENITIES

OUTDOOR AMENITIES

• Alfresco Dining • BBQ • Beach Chairs • Automatic Curtains System in Rooms

• Signature Beach Towels • Kitchen • Outdoor dining

• Outdoor Grill • Outdoor Living Area • Sliding Roof Top Terrace

• Swimming Pool • Terrace with Ocean Views • Infinity Ocean View Lounge Pool



INDOOR AMENITIES

• Baby crib • Blender •Cappucino Machine • Automatic Drape System in Rooms

•Ceiling fans •Central Air-Conditioning •Crib & High chair

•DVD Player •Fully Equipped Kitchen • Meditation / Yoga Room

•Ipod docking station • Microwave •Toaster • State of the Art Wireless Sound System

•Toiletries Included • Wheelchair Accessible

•Wireless Internet

BEDROOMS

(MASTER ROOM 1) •First level, 2 sleeps on King bed, Ensuite bathroom, Air conditioning, Ceiling fan, Ensuite bathroom with shower, Ocean view, Toiletries, TV, Wireless internet access & Jacuzzi,• 1500 Thread Count Ultra Soft Fitted Sheet,Safe Box

(MASTER ROOM 2) •First level, 2 sleeps on King bed, Ensuite bathroom, Air conditioning, Ceiling fan, Ensuite bathroom with shower, Ocean view from the big terrace, Toiletries, TV, Wireless internet access,• 1500 Thread Count Ultra Soft Fitted Sheet

(ROOM 3) •First level, 4 sleeps on Two Queen Beds, Ensuite bathroom, Air conditioning, Ceiling fan, Ensuite bathroom with shower, Toiletries, TV, Wireless internet access,• 1500 Thread Count Ultra Soft Fitted Sheet

(ROOM 4) •Ground level, 4 sleeps on Two Queen beds, Ensuite bathroom, Air conditioning, Ceiling fan, Ensuite bathroom with shower, Toiletries, TV, Wireless internet access,• 1500 Thread Count Ultra Soft Fitted Sheet

(ROOM 5) •Ground level, 2 sleeps on King Bed, Ensuite bathroom, Air conditioning, Ceiling fan, Ensuite bathroom with shower, Toiletries, TV, Wireless internet access,• 1500 Thread Count Ultra Soft Fitted Sheet

(ROOM 6) •Underground level, 2 sleeps on 1 King Bed , Ensuite bathroom, Air conditioning, Ceiling fan, Ensuite bathroom with shower, Mosquito Screens, Toiletries, Wireless internet access,• 1500 Thread Count Ultra Soft Fitted Sheet

SERVICES

INCLUDED SERVICES

Daily Service

Concierges Services 24/7 Telephone Assistance, Meet & Greet, Daily Visit and Check Out, Spanish & English



Maid Services 9am - 5pm Spanish speaking

Gardener 9am - 5pm Spanish speaking

AT ADDITIONAL COST

Chef Services On Request

Spa Services On Request
Beds: 4 King beds, 4 Queen beds
Thank you for entering your review. The review will become available to the system shortly.
Villa Unica
Rating:
Review Date: 02/25/2020
Very good experience, the house was clean and a great location
Spectacular beach and location! Great value! ⭐️⭐️⭐️⭐️⭐️
Rating:
Review Date: 04/26/2019
We had such a wonderful time at Villa Unica . The villa was stunning - had everything we needed . The house is big, bright, clean, sleek and has every comfort imaginable.

The service we received from all staff was unrivaled. This was an experience my family will remember for a lifetime.

Spectacular beach and location! This is the best part of Playa del Carmen, away from resorts and noise!

The house is very comfortable and practical. Great value! And the service provided by Playa Moments was outstanding. We will be back! :)
GREAT EXPERIENCE!
Rating:
Review Date: 03/30/2019
We book this charming house as getaway from the daily routine and couldn't be better! The house is amazing, a short path to the beach within 2meters and the staff, Ofelia and Luna made us feel at home, they were available anytime we needed making us feel comfortable! we'dlove to rent that place again, hopefully son and with our party guys!
Manager Response: 04/17/2019
Response from Playa Moments
Hi Chevelle, thank you for taking the time to review our stay with us! It has been a pleasure to host you in our beautiful villa; we are proud to offer our guests a personalized service to make them feel as at home. We hope we get the opportunity to host you again soon! Kind regards from Playa Moments' Staff.
Great house
Rating:
Review Date: 05/22/2018
The pictures of the house don't do it justice. Great location, great condition, more than comfortable for our group of 15. Management company was helpful in arranging everything and making sure we enjoyed our stay. Great location in a safe gated community, across the street from the beach, and a long walk / short cab into town.
Villa Unica Bachelor Party
Rating:
Review Date: 05/19/2018
Just got back from a bachelor party weekend at Villa Unica and the house was incredible!! It was perfect for a big group with plenty of room for all of us. House was well-maintained and very clean with all of the modern amenities -- 2 pools, hot tub, pool table, big screen TVs in every room, built in speakers with wi-fi connection, etc. and is only steps from the beach. View from the rooftop pool was also amazing and we enjoyed hanging out up there during our down time. Home is in a gated community that felt very safe and is only a short taxi ride or walk to downtown.

Our hosts were quick to respond to all of our requests and helped us plan meals, transportation, and activities. Everything was seamless and we couldn't have done it without them. We also had chefs come to the house for a dinner and a breakfast and both meals were wonderful, some of the best food we ate on the trip.

I would definitely recommend the house to friends and family and wouldn't hesitate to go back again!
Your request has been sent. We look forward to meeting all your vacation needs!