sabbia-2110-3-bedroom-all-in-suite
SABBIA 2110- 3 BEDROOM ALL IN SUITE | Playa del Carmen Vacation Rental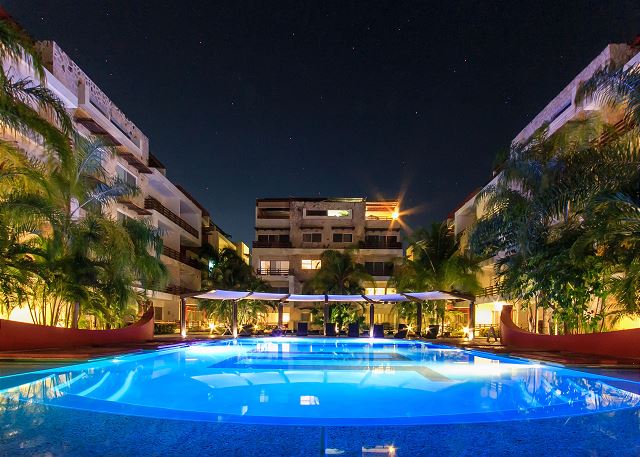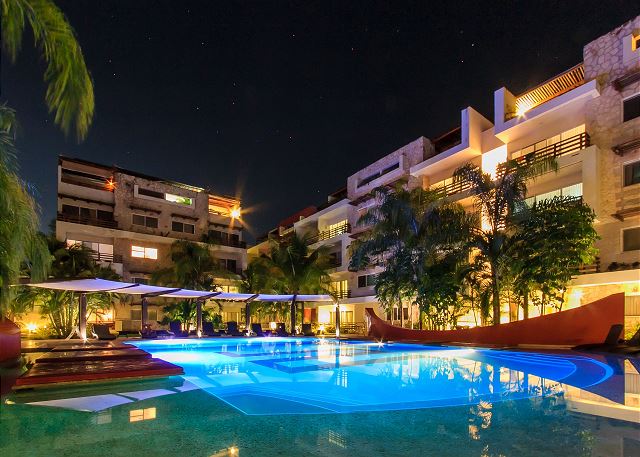 SABBIA CONDOS: IS THE BEST CONDOMINIUM BUILDING IN TOWN. FROM SABBIA IT IS EASY TO ACCESS TO THE BEACH (MAMITAS & KOOL BEACH CLUBS). THE FAMOUS QUINTA AVENIDA WITH ALL ITS RESTAURANTS IS ONLY ONE BLOCK. THIS BUILDING OFFERS AN AMAZING POOL WITH POOL CHAIRS AND GREAT COMMON AREAS TO ENJOY THE GARDENS.

Amazing luxury, comfort and convenience await you at this new boutique condo, only 3 blocks from the sparkling waters of Playa's Coco or Mamitas beach, and only 1 1/2 blocks from the exciting dining and shopping of Playa's Quinta Avenida/ 5th Avenue.

THERE IS NOTHING LIKE THIS BUILDING IN THE DOWNTOWN AREA.YOU ALSO CAN DO YOUR WORKOUT AT THE GYM OR PLAY POOL IN THE GAME ROOM. THE BUILDING HAS AN UNDERGROUND PARKING AREA. IT WON`T BE A PROBLEM IF YOU HAVE TWO CARS.

The apartment has 3 bedroom all in suite UP TO 10 PEOPLE, VERY COMFORTABLE FOR EVERYONE ON GROUND FLOOR. DIRECT ACCESS TO THE POOL

MAIN BEDROOM:

• 1 King Size Bed

• Safe Box

• LED TV

SECOND BEDROOM:

• 2 Double Size Beds

THIRD BEDROOM:

• 2 Double Size Beds

AMENITIES:

• Free Wireless Internet in the condo

• Fully Furnished

• Fully equipped (all lines and towels are provided)

• Fully equipped Kitchen (Blender- Coffee Maker - Microwave - Refrigerator- Toaster)

• Flat Screen HDTV 55` on Living-Room

• DVD • Washer & Dryer • BBQ

• Ceiling Fans • SKY satelital

• Water Heater • Minisplits Air Conditioning

BUILDING FACILITIES:

• ELEVATOR • GYM • SOLARIUM

• UNDERGROUND GARAGE- FREE PARKING

• AMAZING SWIMMING POOL & 2 JACUZZIS

• PLAY- AREA WITH POOL TABLE & AIR HOCKEY

• SECURITY 24/7 • BUSINESS CENTER

Located in Playa's superb new northern end, The condo is convenient to the best amenities of this beautiful Mexican city, strung along the one of the world's most welcoming magical beaches. PLAYA IS ALSO IN THE HEART OF THE RIVIERA MAYA. AN AREA THAT CONTAINS MANY ANCIENT SACRED MAYAN RUINS LIKE CHICHEN ITZA, AND NOW PROUDLY IS HOME TO MANY WORLD CLASS DESTINATION, ADVENTURE AND AMUSEMENT PARKS. THE INCREDIBLE FRIENDLINESS OF THE PEOPLE, THE CULTURE, THE PHYSICAL BEAUTY AND THE CLIMATE CONTRIBUTE TO THE ELEMENTS FOR A REMARKABLE VACATION EXPERIENCE.

Please don´t hesitate to contact us.

WE DON`T JUST RENT WE CREATE EXPERIENCES FOR YOU.
| | Nightly |
| --- | --- |
| April 21 - June 30, 2019 | $220 |
| July 01 - August 31, 2019 | $230 |
| September 01 - December 19, 2019 | $220 |
| December 20 - January 06, 2020 | $500 |
| January 07 - April 08, 2020 | $350 |
| January 07 - April 30, 2020 | $230 |
| April 09 - April 12, 2020 | $350 |
| April 13 - April 30, 2020 | $220 |
| May 05 - June 30, 2020 | $220 |
Beds: 1 King bed, 4 Full beds
Thank you for entering your review. The review will become available to the system shortly.
Pensaron en todo lo qué un viajero pudiera necesitar ❤️
Rating:
Review Date: 04/27/2019
El apartamento super enorme, estábamos muy cómodos cada recamara con su baño completamente amueblado, con muy buen gusto.

Todo perfecto. La atención exquisita en recepción y la oficina de Playa Moments esta justo al lado del edificio. Muy serviciales. Como era TODO NUEVO llamamos en una ocasión a la oficina porque creímos que el desagüe no funcionaba. En 5 minutos estaba allí alguien de mantenimiento. Todo excelente. 100% recomendable.

Hermosa decoración y la particular atención a los detalles. Pensaron en todo lo qué un viajero pudiera necesitar además de su excelente ubicación. Una de las cosas que más nos gustó fueron las sabanas y las toallas, dormimos super bien y la calidad de los blancos es maravillosa. Sin duda regresaremos.
Sabbi B110, Playa Moments
Rating:
Review Date: 04/03/2019
Love the location. The pool is great when it's cleaned, lots of chair saving going on and lots of construction in the area and debris lands in the pool and the hot tubs were gross. Too many parent put their very little kids in them and the water was cloudy almost all the time. The unit was the last on the end and doesn't get any direct sunlight so keep that in mind. Couldn't sit on the patio as the mosquitos were swarming, I know I'm in the tropics but they sprayed and it seemed to make them worse. The unit needs a new couch, you sink all the way down as if sitting in a hole and the what at one point were white chairs around the dining table are stained. Cabinets were filthy and the refrigerator is missing all but one shelf and only one rack on the door. It also leaks from the freezer compartment. The phone was out of order and stayed out of order our entire stay, even thought it was reported. Wi-Fi worked intermittent. The master bedroom is the only bedroom with a tv and night stands with lamps the other two bedrooms are very sparse and did not have screens so you couldn't open the windows. One bedroom ceiling fan didn't work, but was eventually replaced with a new one. The bedrooms smelled very musty and dank as did the pillows and bedding. We did get them to get us clean pillows. I think its the cloth on the headboards that hold the smell. The windows were covered in what appeared to be cement splashed from the neighboring construction, they did have a woman come and scrape them but they were still dirty. The coffee pot was a little 4 cup tin pot, this is a condo for 10 people. Only 4 small coffee cups and 2 wine glasses, burnt frying pan was useless. This was all reported to Playa Moments and until we found Luna from Playa Moments nothing was done about it. Luna is the BEST and she saved our trip by taking care of our requests. Unfortunately these things should have been done prior to our arrival not after we complained.
Manager Response: 05/15/2019
Response from Playa Moments
Hola Pamela, thank ypou for taking the time to review your stay with us. Our apartments are maintained and verified by ur staff prior any arrival and trought the stay to ensure he guest has all needed to confortably enjoy the stay! Unfortunately some items are not available in all units and are subjected to availability upon request, this is one of the reason why we have an attemptive staff on site that make sure a smooth communication and visits every other day to meet all guests needs and ensure everything is working properly. We are sorry you did not informed about some of your unconformities with the staff while there, we would have been pleased to solve it quickly as we do with all your additional requests. Hope you will give us the chance to host you again and exceed your expectations. Warm regards from Playa Moments' team!
Sabbia Great Place
Rating:
Review Date: 03/16/2017
We had a nice stay at a very comfortbale apartment with 3 bedroom and all services. Department was very clean.
Great Location!
Rating:
Review Date: 02/16/2017
We were a total of 8 guests during this stay. The condo was just as described in pictures. Very neat and clean. Great customer service by management company. We were greeted no matter the time; they always have someone in the front desk, which made us feel safe since we were all ladies. It is a couple of blocks from 5th Avenue, which is where all the main tourist attractions are. But also a very short taxi ride away from the Mamitas Beach. We did not get to enjoy the pool as much as we would've liked to, but the hot tubs were a nice treat after long days of walking. I would definitely recommend this place for anyone traveling in a big group!
Great family vacation
Rating:
Review Date: 01/28/2017
The condo's location is great for a family vacation. It is close to 5th Ave but away from the noise. The pool area is well maintained and the bonus of having a gym and ping pong table was fantastic for the older kids travelling with us...
Manager Response: 02/09/2017
Response from Playa Moments
Hi Marcela, it was a pleasure to have you with us, Sabbia is the perfect get away for families and guest of all ages. Sabbia condominium counts with many diferente additioanl services and the best pool. We certainly hope that we get the opportunity to welcome you back soon. Kind regards from the Playa Moments team!
July 2016 Stay
Rating:
Review Date: 07/11/2016
Que buena experiencia! El apartamento fue tanto o más de lo que esperábamos; las habitaciones, el mobiliario, la ubicación, el apoyo y atención por parte de nuestra conserje que siempre estuvo atenta a nuestras necesidades. Muy recomendado para quienes deseen pasar unas vacaciones en familia a muy buen costo y sin preocupaciones
Great Flat, very poor service
Rating:
Review Date: 07/07/2016
We stayed in one of these flats, it is very big and each room can accommodate 2-4 people easily.
Main reasons of why poor service:
No welcome package - they have a coffee machine but they don't provide any start ups. When I asked them f they could get at least one filter, they said they would call back in any case and never did.
They had no idea where I was meant to park the car.
The washing machine never worked. Flat got flooded three times. I was actually never able to wash anything for a whole cycle.
We asked for a grill to have a bbq and got there by the time I had already planned a back up dinner!
In general, the attention we received from Victor and Fernanda was very very poor. I like it when answers are straightforward and honest. They don't provide either. They said a couple of times they would call back regarding some issues, and they never did.
One of the main things they have as a selling point is accessible working and reliable WiFi. NOT TRUE! I even emailed them a couple times about this in advance, as my husband needed to work some
Mornings, and they did state it worked perfectly and regardless of number of other equipments, etc. It did literally never worked. This is one of the worst things as we did have to look for alternatives.
It is a shame that the administration of the flat is so bad, as I really liked the flat and the condos it is in. The pool is great and location could not be better. Just for the service, I would not recommend this Playa Moments flats at all.
Manager Response: 08/06/2016
Response from Playa Moments
Hello Katia! WE are very sorry for all the troubles that you got within your staying, we are working very hard to improve our service every day, please let us redeem ourselfs and rent with us again, warm regards from Playa Moments Team.
Your request has been sent. We look forward to meeting all your vacation needs!