AT 1130 -2 Bed Suite+Gym+Parking+WIFI+Beach Club | Playa del Carmen Vacation Rental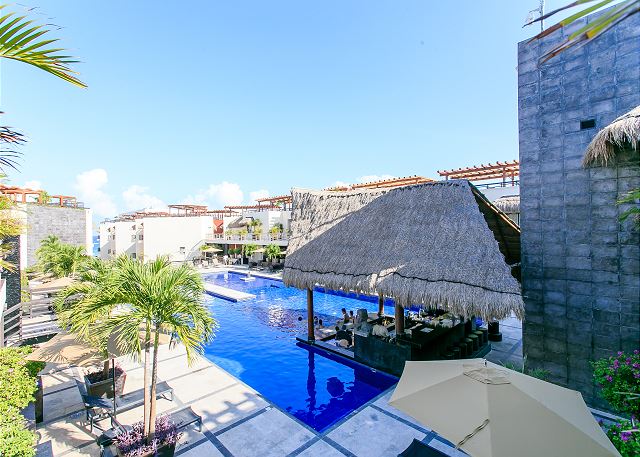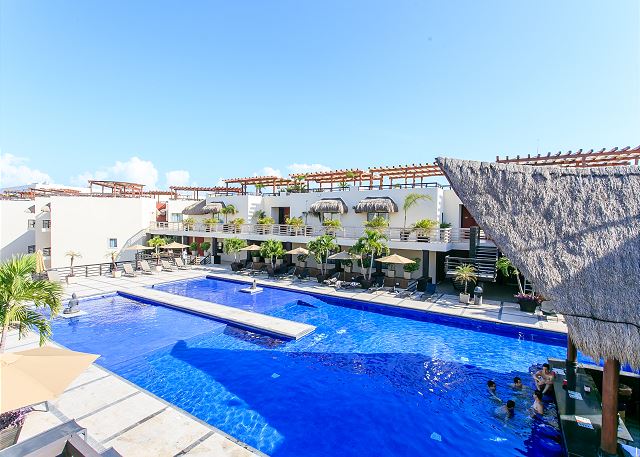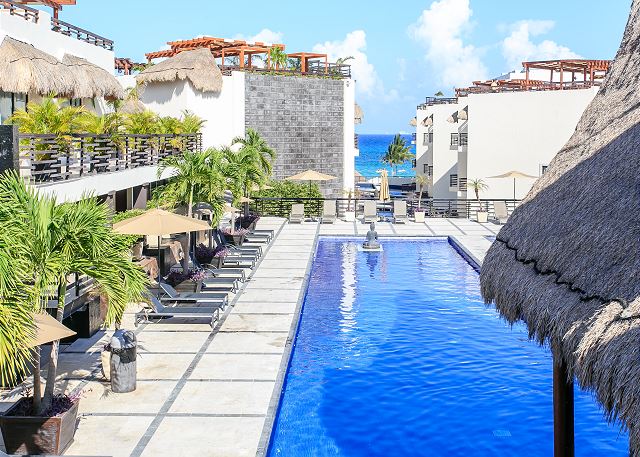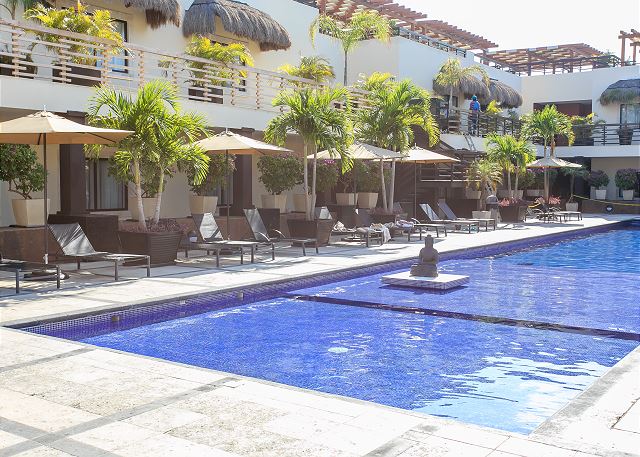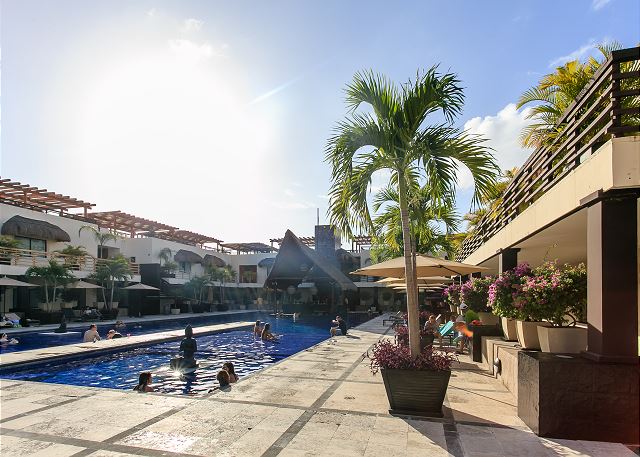 | | |
| --- | --- |
| Property Type | Apartment, 3 story, Built in 2005 |
| Unit Code | ALD1130 |
| Beds | 1 king bed, 2 full beds |
| Bathrooms | 2 bathrooms |
| Rooms | Sleeps 6, 6 dining seats, 1 car garage |
| Floor Area | 1400 square feet |
| Pets | No pets allowed. |
DESIGNED FOR ELEGANCE AND CONVENIENCE, ALDEA THAI DELIVERS THE SOPHISTICATION OF THE THAI- BALINESE STYLE COVERTED IN LUXURY DESTINATIONS.LOCATED OFF MAMITAS & KOOL BEACH CLUBES, PLAYA DEL CARMEN'S MOST DESIRABLE LOCATION. A THAI-BALINESE STYLE INFINITY RESORT POOL.

ALDEA THAI FEATURES A GRAND ENTRANCE, LOTS OF COMMON AREAS AND A FANTASTIC POOL AREA WITH BAR AND LOUNGE CHAIRS.

ALDEA THAI IS YOUR CHOICE!

ENTERTAINMENT / LIVING AREA

•55" Flat Screen HD Smart TV with Remote Control

•Cable

•DVD Player

•Free Extra High Speed Internet

•Celing Fans

•AC

•Fully Furnished

DINING

•Granite Counter Top

•Marble Floors

•Refrigerator

•Coffee Maker

•Blender

•Microwave

•Toaster

•Stove

•Glasses & Dishes

•Fully Equipped Kitchen

•Oil & Salt (Upon Request)

•Specific Utensils (Upon Request)

•Wine Glasses (Upon Request)

BATHROOMS

Bath Amenities 100% Eco Friendly & Biodegradable

•Body Lotion

•Conditioner

•Shampoo

•Shower Gel /Soap

•Hot Water

•Bath Salts (Upon Request)

•Sewing Kit & Bath Cap (Upon Request)

•Hairdryer (Upon Request)

•Luxury Hand & Body Towels

•Accessible Shower

BED FEATURES

• 1500 Thread Count Ultra Soft Fitted Sheet

•Ultra Soft High Quality Duvets

•Celing Fans

•AC

•Safe Box

•Master Suite: 1 King Size

•Second bedroom: 2 Full Beds

•Baby Package ($ Upon Request Includes; Crib, High Chair, Bath tub, Toys)

ROOM AMENITIES & SERVICES

•Balcony

•Black Out Curtains

•Air-Conditioned Rooms

•40" Flat Screen TV with Remote Control

•Iron/Ironing Board (Upon Request)

Just 50 steps from Aldea Thai are the most glamorous beach clubs Playa del Carmen: MAMITAS & KOOL Beach Clubs in which you will be able to enjoy their delicious meals, drinks, beach beds and we will provide a special discounts on drinks and beverages.

GUEST ACCESS

This spectacular Condo Hotel is the gateway to modern luxury. Aldea Thai Luxury Condo Hotel, joins the spirit of Bali-Thai with the aura and tranquility of the Mexican Caribbean to offer a first class complex whose magnificent condominiums provide comfort, extreme luxury and first class hotel service, it offers essential amenities that will make your stay an unforgettable experience.

SERVICES

• Housekeeping Service (Confirmed at Reservation)

• Electronic Room Key

• Free Wireless Internet in the condo

• Underground Garage / Valet Parking

• Solarium

• Gym

• Elevator

• Amazing Swimming Pool & Bar * just steps from MAMITAS & KOOL Beach Clubes

• Security 24 hs

INTERACTION WITH GUESTS

Our guest are our priority, we work 24/7 to help our guest have the best vacation possible.

We ensure that all guests feel at home and have the most privacy possible; in order to achieve this we provide all access codes, instructions and general apartment information before and at arrival.

Personal concierge services are also available upon arrival and throughout the stay for any additionalinformation at check-in.

Also our team is available from 9am – 7pm at our office locations, we offer many different means of contact but if you would like to drop by we are at your disposal to accomplish any request 24/7.

Concierge Services:

•Not on Site

•Email, Txt, Calls or Schedule Visits

WE DON`T JUST RENT WE CREATE EXPERIENCES FOR YOU.
| | Nightly |
| --- | --- |
| January 07 - April 13, 2019 | $300 |
| April 14 - April 20, 2019 | $380 |
| April 21 - June 30, 2019 | $220 |
| July 01 - August 31, 2019 | $290 |
| September 01 - December 19, 2019 | $220 |
| December 20 - January 06, 2020 | $500 |
| January 07 - April 30, 2020 | $290 |
Beds: 1 King bed, 2 Full beds
Thank you for entering your review. The review will become available to the system shortly.
Overall OK stay in Playa Del Carmen
Rating:
Review Date: 12/04/2018
We enjoyed our stay in Aldea Thai. The service we received from hotel staff and concierge was awesome. Location is literally steps from Kool beach and Mamitas beach (private beaches you pay for) though a little ways away from the main public beach. 2 blocks away from the main Street where you can find shops, restaurants, bars, and even a starbucks :) Facility is beautiful. Pool was nice. Room is very spacious. But a few issues with the room. The master bedroom sink leaked and the shower curtain in the master bedroom was falling off. Also, only Netflix in the small bedroom and living room. So if you're staying in the master bedroom be prepared to watch Spanish cable tv. Lastly, communication with Playa Moments wasn't really smooth. I was provided a phone number for someone to contact through what's app but that person was of no help and had no information regarding issues/concerns. I left my make-up bag in the room on the couch. I reachrd out to someone within 2 hours of leaving. Was told that she would get back to me later in the day. I text and called her several times for the next day and half (before flying back home) with no response. She finally replied back almost 2 days later after I was on my flight back home. So, would recommend staying here if you want a spacious apt near the beach and everything. Just dont expect much help from administration at Playa Moments if you need assistance with anything. And if you accidentally leave something in the room, just count it as a loss.
Perfect
Rating:
Review Date: 10/21/2017
Manager Response: 11/27/2017
Response from Playa Moments
Hi Nir, thank you for your evaluation, it has been a pleasure to welcome you in one of the best condhotels in town! We are happy you could enjoy the space and its facilities. We hope to greet you again soon! Kind regards from Playa Moments' staff!
Superb Vacation Spot
Rating:
Review Date: 01/03/2017
Our family of 4 (adults) stayed at Aldea Thai during Christmas holidays. The condo was fabulous! Clean, spacious, and all the amenities we could want. Beds are comfy and kitchen provided us all our breakfast and lunch meals. Micro/coffee machine included. Only thing missing was wine glasses but we made due. Location is perfect in Playa Del Carmen. A minute walk out to the beach and beach clubs (we spent 2 days at Kools and it was great). one block walk to 5th to everything you need and want. Excellent restaurants. A bit of noise on balcony as there is construction happening across the street but the sliding doors provide sound proof. Music at the Hyatt was a bit tiresome as our balcony backed onto the garden view. Great Pool at Aldea, and Rafael the bartender was lovely. All in all, a very accommodating and friendly place. Christopher at the front desk gave Excellent service!!!
Perfect
Rating:
Review Date: 12/17/2016
Good
Rating:
Review Date: 11/29/2016
The location is amazing! The only thing I would probably give a 3 out of 5 is the management staff. They accused us of tearing a towel, telling us that we had ripped it so we had to pay $25. He said we had torn it by the hanger where you hang towels, but how is that possible if it had 2 holes. If was very obvious that the holes were made from the washing machine, but they blamed it on us. Another thing, if you dirty the towels (which towels can be washed) you have to pay $25. Basically you had to be careful not to get anything dirty but keep in mind that we are at a beach with sand so they are obviously going to get dirty. It's a towel, it's supposed to get somewhat dirty. RIDICULOUS!!!!
El lugar es muy bonito y super bien localizado
Rating:
Review Date: 06/22/2016
Los chicos son muy serios y profesionales te puedes comunicar con ellos para cuaqluier dudaby siemore estan al pendiente, lo unico q pudiera comentar negarivo fue que de los 3 dias solo 1 se hizo la limpieza de ahi en fuera todo mas que excelente
great accessibility for all!
Rating:
Review Date: 04/14/2016
Clean rooms, friendly and helpful staff, the room and pool were very accessible for myself who is confined to a manual wheelchair.
Manager Response: 04/16/2016
Response from Playa Moments
Hi Kevin, it was a pleasure to have you with us. It is our job to ensure that all guest are able to enjoy all parts of the condominium. We are very glad you had such a good time and hope you can come back soon. We hope we can exceed your expectations once again. Kind regards from the Playa Moments team!
April 2016 Stay
Rating:
Review Date: 04/11/2016
Awesome stay! Alden Thai is the best place to stay in Playa
Great room
Rating:
Review Date: 02/22/2016
Room130 was a big, spacious room. The room with two double beds where our friends slept, has a view of the side of the Hyatt, trees and sun! Nice to wake up to! My hubby and I stayed in the room with the King sized bed which has no view at all. It has a window the the inside hallway where other patrons pass by frequently. Somewhat disappointing but beyond the owners control. The room itself was big and the bed was VERY comfortable. Our microwave was broken for the entire visit which was a huge inconvenience. We also had a leak in the living room ceiling from the unit above, (lots of rain that week) but this was obviously beyond their control and we didn't expect them to patch it up while we were there or anything! There was no noise from construction as previously mentioned and all in all, the place was quiet and peaceful. The checkin and checkout couldn't have gone more smoothly and the front desk reception area was hassle free. My husband and I used the gym each morning. They say it opens at 7 a.m, but one morning they opened it at 6 for us, no questions asked. The gym is pretty basic but gets the job done. We didn't use the pool, but it looked like a nice area. The beach is really close. We preferred Kool Beach to Mammitas. If you buy food and drinks from the waiters, the cost of your chair comes off the bill. Loved that! The restaurant/bar just outside the hotel called Helodias had great tacos (our fav from the trip)!
One suggestion: Maid service was scheduled for Tuesday and we arrived on a Sunday evening... seemed a bit too early into the trip and by the end we were dying for new towels.
Wish we could've had more keys. There was 4 individuals (2 couples) in our room and only two keys.
The room with the Bathtub/Shower could use a shower curtain.
Wow, it seems like I'm complaining a lot, but really these are all things I'd suggest to make the stay better, but our stay in Aldea Thai was more than great!
Manager Response: 02/25/2016
Response from Playa Moments
Hi Lindsay, it was a pleasure to have you with us during your time in Playa del Carmen. Thank you for your kind comments and review, we are always looking for ways to better our service and our guest have the best feed back to make this possible. Regarding some details like extra keys, curtain and cleanings we would have been happy arrange them if we had been notified. We apologise for any inconvenience and would have provided anything need if we had knowledge of the request, concierge services and a front desk in the condominium is available for you to let us know any needs you might have, we hope this info can help make any of your future trips easier. We hope we get the chance to welcome you back again soon. Kind regards from the Playa Moments team!
Problems not fixed
Rating:
Review Date: 01/22/2016
My family and I recently spent a week in Playa Del Carmen over New Years and enjoyed our stay at the Aldea Thai. The location was superb! We really enjoyed being within easy walking distance of 5th Avenue and the beach. The property was clean and spacious and had a nice kitchen. I booked the trip pretty last minute, so the choice of lodging was pretty narrow. With that said, Aldea Thai was very nice. However, we ran into some problems in our unit.

The microwave did not work. We contacted the management personnel several times but the broken microwave was never fixed. The hot water ran out after about 1/2 a shower. This problem, too, was never fixed. Finally the WiFi was so bad that I just used my cellular data plan instead!

These problems took away from an otherwise enjoyable stay at the Aldea Thai and could have been readily addressed by the management. So, we will not likely stay here again.

Manager Response: 01/25/2016
Response from Playa Moments
Hi Benjamin, it was a pleasure to host you during your time in Playa del Carmen. I would like to touch base regarding your comments as our team works hard to solve all problems in a timely manner. Sadly the microwave in this unit broke down but the next day we were able to provide a brand new one for you to use during your stay. Also the hot water problem was solved the day after your arrival, due to water pressure it's impossible to have super hot water on both bathrooms at the same time but hot water was available during your stay. We apologize for the inconvenience but work as hard as possible to make sure everything goes well during any stay as our guest are our priority. We hope you can come back soon maybe in a different condominium and we hope to exceed your expectations. Kind regards from the Playa Moments team!
Your request has been sent. We look forward to meeting all your vacation needs!